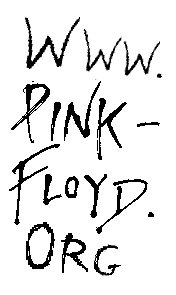 Thanks:
ITBnet for the free hosting.

Coreii Cunningam for the new Dolly Rocker Pages.

Kevin for the Syd's pictures.

Gustav Skaanes for the authorized mirror of a lot of articles and interviews from Let there be more light (http://home3.inet.tele.dk/gskaanes/).

TURNER Colin for his kindness: visit his important Floyd Site.
Keith Jordan for some new interviews taken from his Neptune Site.
Matt Johns for his important interview to Mason. Many compliments for Brain Damage!
Elliot Tayman, one of the most important Floyd stuff collectors, for his exclusive articles and pictures.
James for the essential revision of Syd's songs Tablatures.
Rob Peets for the official permission to reproduce the Roger 'Syd' Barrett's Nephew interview.